Let's start at the end. This is how a fully spray painted cabinet should look like. Spraying is the easiest part of painting your kitchen cabinets. We start by removing all the doors and drawers. Then we degrease everything that we want to paint. You might think that your cabinets are super clean and don't need this step but trust us, a nice degreasing job will save a lot of sandpaper. Over the years your kitchen cabinets will suck up the grease and this will not allow the primer to fully stick to the surface. You might have seen other people trying to do this on youtube when you searched for "DIY Kitchen Cabinet Painting" before visiting our website and seen that you can take the paint off by just scratching it with your nails. We do not want that. Once everything is fully degreased, wiped and dried, we start sanding. We lightly sand the whole area with 220 grit sandpaper to get it ready for priming. If there are some scratches or damages on your kitchen cabinets, we try to sand them out and if they are too deep we use wood filler/glazing puddy to repair. After sanding, we wipe the surface will a lint free rag and a lighter degreaser to have a dust free surface to spray the primer on. After the fist coat of primer, we tend to see the problematic areas that need more attention. We attend to these before applying the second coat of primer. We sand between each coat of primer. Second coat of primer should have your cabinets looking all white. After the second coat of primer has fully dried, we sand with 320 grit to achieve a buttery surface. Now we are ready to spray paint the cabinets. Our premium quality wood coating will make your kitchen cabinets looking beautiful. We promise you that. We are experts in kitchen cabinet refinishing and we spray from A to Z.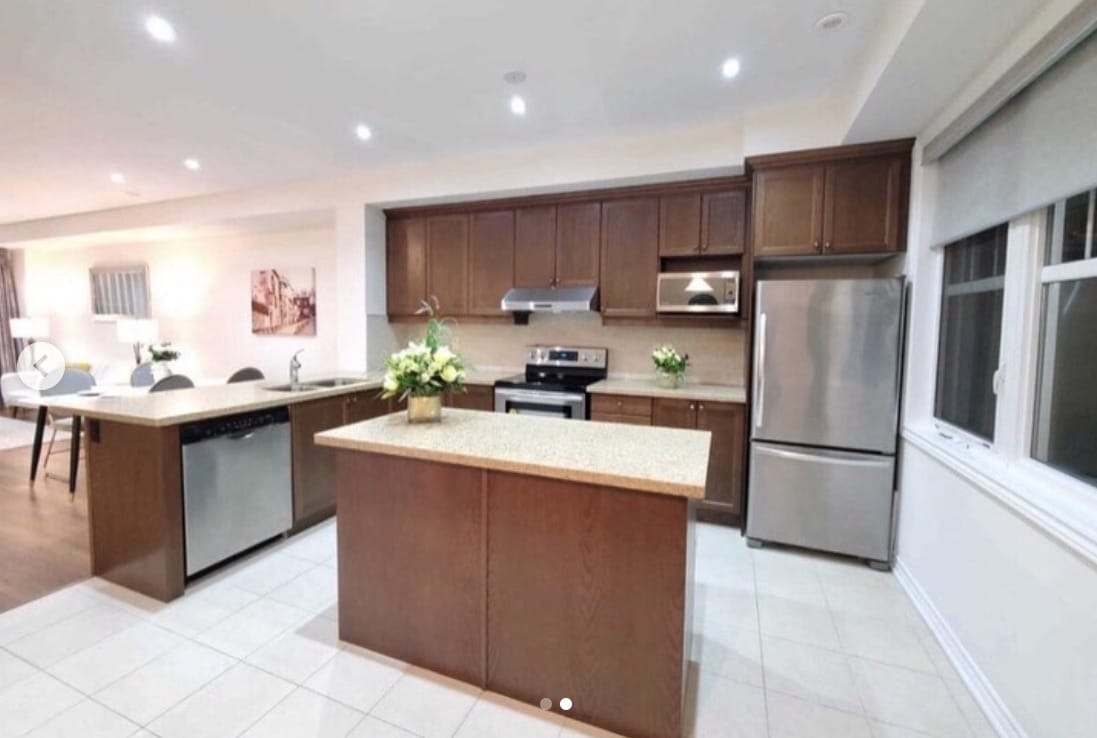 Oh Ya! And here is the before picture so you can see that spray painting your old brown kitchen cabinets will give your house a more modern look. Specially in the GTA with the housing market going up the way it is. You want to make sure you add value to your biggest investment and enjoy it while you are living there. 
We use Renner for all of our kitchen cabinet painting projects. This paint is a premium Italian brand which you will not find in your local hardware stores. At triple the price of any Behr paint, Renner offers a superior finish for the job. After the first coat, we sand and inspect the whole area to make sure there are not issues before we apply the final coat. We wipe down the whole cabinets again and start with the second coat. We might need a third coat depending on how dark your original kitchen cabinets were compared to the new colour.